Activities & Training sessions conducted or organized by Library Staff
In September 4th, 2012 the library employees farewelled Mr. Labib Eid - head of user's services department- after 34 years of service in the University, with the participation of vise presedent of acadmic affairs

they also welcomed the return of and recovery of Mr. Gazi Obeid and they also farewelled Mr. Fikri Haj who worked in the library for the past year.







Top of page
Training Sessions Attended by Library Staff
Labib Eid, Mahmoud Murrar and Asad Tom attended a Webinar Session titled "Participatory Design" organized by eIFL and presented by Nancy Fried Foster and Sania Battalova on 26/04/201


Mr. Mahmoud Murrar attended a workshop on "Databases and Library Management Systems " in the period from 22/2/2012 to 23/02/2012 in Amman-Jordan.


Mr. Jamal Sohweil has participated in a book show and workshop titled "encouraging to use library" in Arab American University-Jenin on 5-12-2011.


Top of page
Last visits: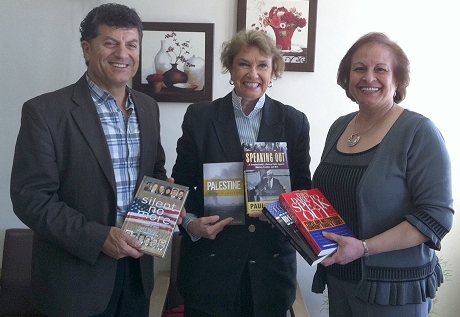 Mrs. Janet Crisler/ President of The Institue of Archaeology and Director of The Crisler Library in Ephesos-Turkey has visited the Library on Saturday, 21/04/2012 and donated few books to the Library.






Top of page






















Forthcoming Visits:













Top of page